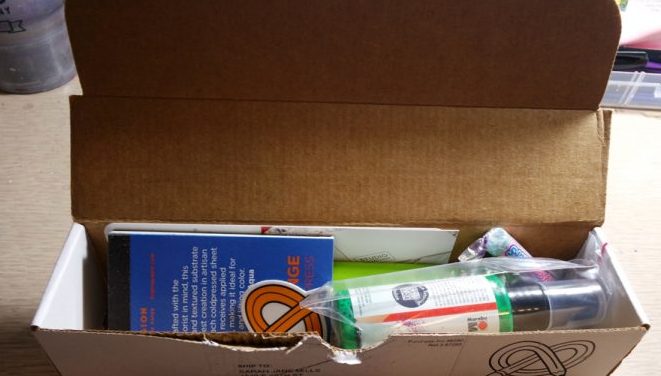 Hi friends! I received my first ArtSnacks box a bit ago and I wanted to do a little review on it! I've heard a lot about ArtSnacks through various artists and pen lovers from around the web, so I was very excited to get myself signed up. I used the coupon code artsupplyposse for 10% off (first month) from the gracious peeps at Art Supply Posse Podcast  – check them out, too! :D
Now to the box! From their site: ArtSnacks is a curated box of 4-5 unique, high-quality art supplies delivered to your door every month. Below is a listing of all the supplies that were in this month's box, a little comment about each product, and price.
Plumchester 1.5 Fine Brush Pen ($2.99)

This is special because ArtSnacks is creating their own line of art supplies and this pen is one of them! I'm a huge fan of brush pens and I really enjoyed this pen. The ink is waterproof and the brush is firm and gives great thick and thin lines. I'll be looking out for other supplies in this line!

MOLOTOW GRAFX Aqua Ink Pump Softliner ($14.95)

This pen was very interesting, it's like a brush pen, but in a larger pump pen package. The ink is water based so you can use a water brush to spread the ink around. I was impressed that the color was so intense! This pen is also refillable so that is a plus!

Marabu Mixed Media Art Spray ($5.99)

This product was definitely something I would not have purchased on my own. The ink is acrylic based, so after it dries, you can add other art supplies on too and it will not smear or bleed. I had fun using this on top of a stencil, and playing with the distance of the spray nozzle to the paper. It can be a bit messy, so make sure you have something under your work, like newspaper, etc.

Pentel Arts Sign Pen Brush ($2.99)

This pen was really nice feeling in my hand and the feel of the tip was nice and smooth, I also enjoyed the color that I received in this box. It has water based ink, so adding water to it will make it smear and bleed.

Stonehenge Aqua Coldpress Mini Pad – bonus item

I have never heard of this brand of watercolor paper before, but I loved it! I usually use Arches cold press and this was a very comparable paper. You really have to put a ton of water on this paper for it to buckle and warp. I was very impressed and I plan to do some more research and testing with this paper!
(Prices are the retail prices listed on the card provided with the ArtSnacks box )
Total cost of ArtSnacks box: 26.92 plus bonus paper
Cost of ArtSnacks monthly: $24.00 for recurring 1 month plan (with 10% off  first month discount – $21.60)
As with all subscription services, the year plan has the best price at $20 per box.
Click here to go to the ArtSnacks Website
Here's some test art I created with all of the supplies from this box with the addition of a White Gel Pen: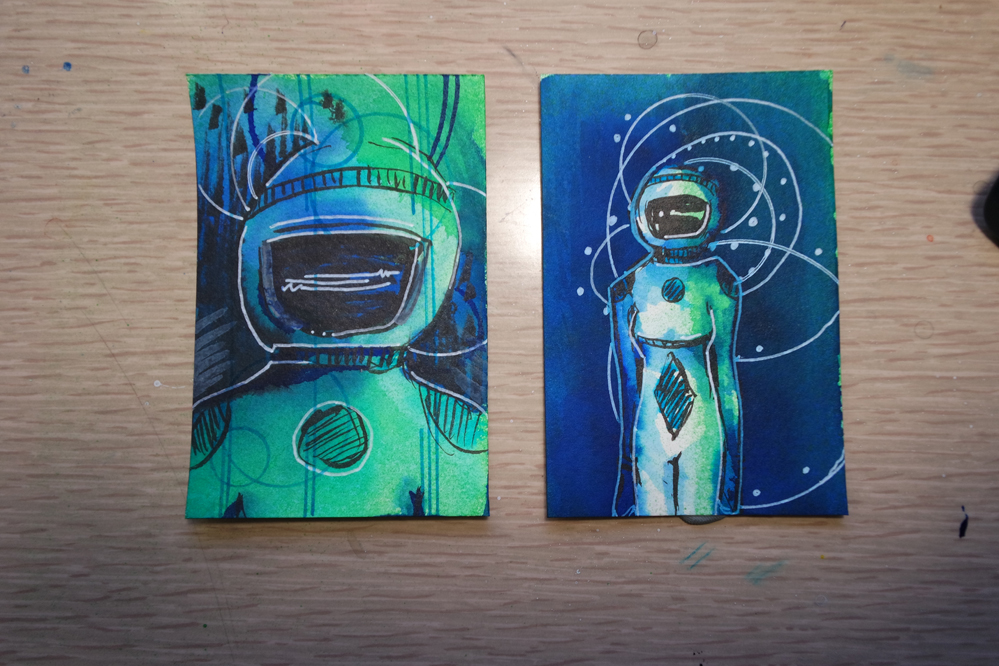 Also, my Quote Monday from Nov. 7th used all but the paper.
I really enjoyed this subscription box and am looking forward to December's!
Photos below! :)
Do you have a favorite monthly subscription box? If you receive this subscription, what is your favorite item from this collection?
Also, if you have any questions about the ArtSnacks products, I'll do my best to answer or point you in the write direction :)
Thank you for looking/reading!
—– —– —– —– —–
I was not compensated for this post, I purchased the ArtSnacks subscription and all these thoughts are my own opinions. Photos taken with Samsung NX mini (with and without flash). As with any ink and product photos, I try to be consistent in color. What you see on your monitor might not be the actual color, but it should be a fairly close representation. Artwork created using only the items from this subscription box, unless noted. Thanks!
Thank you so much for your support and for viewing this post!
xo-Jane
For projects I'm currently working on, free PDF zines and printables, sketchbook pages, videos, & more support my work on Patreon! :)
www.patreon.com/sjanemills