I received my April iPenBox last week!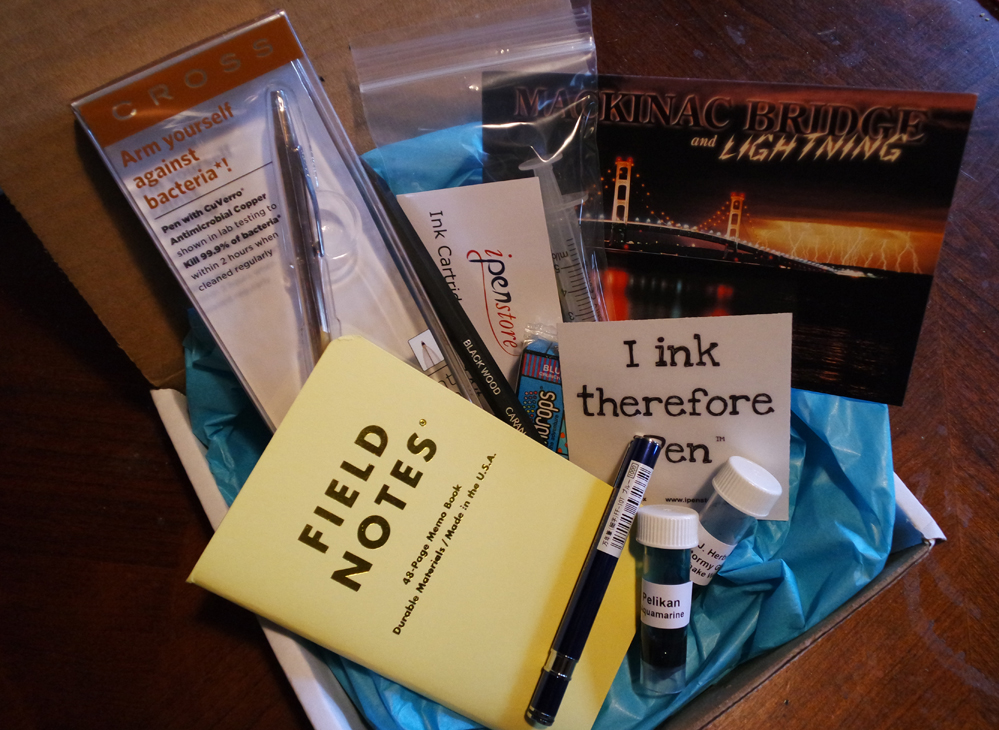 Sketch below created using all items in the box (minus the postcard, candy and sticker ;) )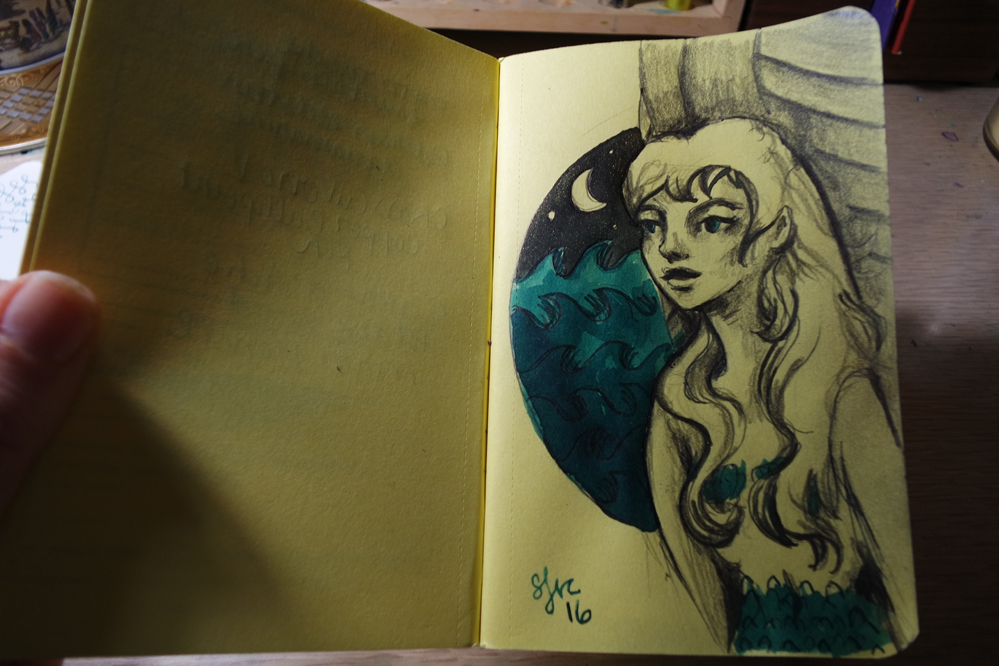 Theme: Stormy Seas
Products in the iPenBox:
Caran d'Ache Blackwood Maxi Pencil ($3.50) – Man, this pencil was nice, the thickness did not bother me, the lead was very smooth and gave nice variation in tone.
Ohto Tasche Fountain Pen M nib ($15.97) – Slick fountain pen! Loving the mini size! Did you know Tasche means Pocket or Bag in German? :) This in in my current EDC!
Cross Century CuVerro V Antimicrobial Copper Ballpoint Pen ($50.00) – SCIENCE! This pen has properties to reduce the spread of pathogenic microbes! Great to share, but would hate to lose! This pen had a hard start – but is coming along. I don't use ballpoints as much anymore, so I could just not be used to it.
1 Field Notes Sweet Tooth in Yellow ($3.32) – I was looking forward to getting this pocket notebook sample! I love the colors and weight of the paper! Art supplies and fountain pen ink have been behaving so far!
1 Fountain Pen Ink Cartridge filling Syringe ($1.48) – I have a friend in the medical field so I added this to the box o' syringes I have ;) It came with some instructions, which made this a great addition for those new to fountain cartridge pen filling.
J. Herbin 1670 Stormy Grey Fountain Pen Ink Sample ($1.97) – Love and have a bottle of (★‿★)
Pelikan Edelstein Aquamarine Fountain Pen Ink Sample ($1.97) – Love and will be getting a bottle of (♥‿♥)
Michigan postcard ($1.00) – I love getting these!
Candy! :D
Free sticker!
Prices were calculated from the iPenStore's regular stock prices, unless noted.
Approximate total items cost for the April iPenBox = $79.21 !!! Wow, iPenStore really showered us this month with goodies (pun intended!) :D
This was a really nice set and I am glad I received a sample of Pelikan Edelstein Aquamarine. The Ohto fountain pen is my favorite and I carry it with me at all times now. :)
More Images!
Do you have a favorite monthly subscription box? If you receive this subscription, what is your favorite item from this collection?
Thank you for looking/reading!
—– —– —– —– —–
I was not compensated for this post, I purchased the iPenBox subscription and all these thoughts are my own opinions. Photos taken with Samsung NX mini (with and without flash). If there are ink swatches, they are done on Maruman Mnemosyne Word cards with a dip pen and Tachikawa Comic Nib G. As with any ink and product photos, I try to be consistent in color. What you see on your monitor might not be the actual color, but it should be a fairly close representation. Artwork created using only the items from this subscription box. Thanks!
Thank you so much for your support and for viewing this post!
xo-Jane
For projects I'm currently working on, free PDF zines and printables, sketchbook pages, videos, & more support my work on Patreon! :)
www.patreon.com/sjanemills